So much to choose from, so little time. Will he go with the classics (Prince? Bruce? Michael Jackson?) or with something a little more unique (A-Ha? Slick Rick?). So if I were to be deserted on a remote island somewhere with Molly Ringwald, what great albums from the 80's would I want to have with me? Well…let's get to it, shall we?

10. R.E.M – Documentary  (1987)
Includes R.E.M.'s signature hit "The One I Love". Also has "It's The End Of The World As We Know It" and my personal favorite "Fireplace". Michael Stipe is as raw a singer as anyone I've ever heard.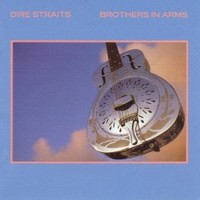 9. Dire Straits – Brothers In Arms (1985)
Mark Knopler produced, wrote and sang the songs. But it was the quirky video with Sting singing in the distance that got me at first. Name dropping MTV helped. Then once you get past "Money For Nothing", there are just some amazing tracks. My personal favorite? The 8 minute masterpiece, "Why Worry" with an awesome fade out of drum and steel guitar.

8. Bryan Adams – Reckless (1984)
I spent probably 3 years of my teenage years rocking to this album and I will defend it to the day I die. You won't find a better pop/rock album out there anywhere. "One Night Love Affair", "Heavan", "Somebody", "Summer Of '69″…all FM radio staples back in the mid-80's.

7. Violent Femmes – Violent Femmes (1982)
Raw and edgy, I'll never forget listening to this for the first time and thinking, "This is crap", only to be won over by peer pressure and forced to listen to it. After repeated listenings, it changed into something that changed the way I listen to music.

6. Journey – Escape (1981)
To this day, I can put this album on and listen to every track. "Open Arms" and "Don't Stop Believin'" were the biggies, but Steve Perry's vocals soar on every song.

5. Talking Heads – Stop Making Sense (1984)
1984 was a good year for music. And the Heads made one of the greatest concert films of all-time. I didn't really discover this album until college, but I played it constantly and now wish I had been more knowledgable of "alternative" music at a younger age.

4. Benjamin Orr – The Lace (1986)
Are you kidding me? I'm gonna take a solo album by the "backup" singer of The Cars over one of their albums? As good as The Cars were, I never thought they ever had a complete album full of hits. Well…this album isn't any different really. But if you wanna hear pure 80's pop, with synthesizers and guitar riffs, then check out this little unknown. Probably the only track you're gonna know is "Stay The Night", but all of the tunes on here are catchy!

3. Alexander O'Neal – Hearsay (1987)
It came out my freshman year in college. It had one big hit ("Fake"). It has those cheesy 80's interludes between the songs. And I would take the fun of this album over the overhype of "Thriller" any day. Seriously, it's just a great pop, R&B album. If you happen to enjoy this kind of music, check it out. It really speaks for itself!

2. Prince – Purple Rain (1984)
From the opening of "Let's Go Crazy" to the final notes of "Purple Rain", this is one of the greatest R&B albums of all-time by one of the greatest performers of all-time. You know all the songs, so I don't even have to go there.

1. U2 – The Joshua Tree (1987)
I've listened to this album more than any other album in my life. I've worn out the album, the cassette, and 2 CD's. It's greatest arena rock album ever by the greatest arena rock band of all-time. You've heard all the hits, but it's really "Bullet The Blue Sky" and "In God's Country" that drive the bus. Everything about it is perfect and if I were to pick only one album to be stranded with…this would be it.